Woodstock the Musical coming to Broadway
Free love for $75 a ticket – does Woodstock the Musical mark the end of the legendary festival's countercultural cachet?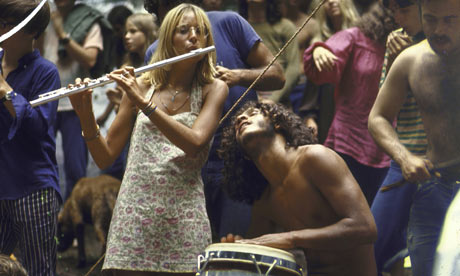 It's been a while since uptown audiences could expect a psychedelic experience on the Great White Way (though I suppose some could argue that Starlight Express was a pretty bad trip), but Michael Lang, one of the promoters of the 1969 Woodstock Music and Art Fair has announced plans to turn three days of peace and love into a Broadway musical.
In an interview with Rolling Stone, Lang announced plans for a production that would draw upon his memoir, The Road to Woodstock, revealing "the human condition and stories affecting people's lives" as well as "something of what we experienced on that weekend". Lang rejected the idea of capturing the event in showtunes. (So audiences cannot, alas, look forward to Oh, What a Mud-Covered Morning or My Fair Hippy). But he mentioned that instead musicians who performed at Woodstock might be called upon to write stage-appropriate songs – though it's hard to imagine Joan Baez or Pete Townshend agreeing to do so. (Maybe Grace Slick needs the work?)
Of course, there's plentiful irony in turning the consummately countercultural experience into a mainstream musical, but Woodstock has long since become a T-shirt and pop-culture staple. The current Broadway revival of Hair is a useful example of how a piece once considered daring now plays to family audiences. Its songs namecheck LSD and fellatio, yet even speaker of the house Nancy Pelosi got onstage at one performance and boogied with the cast. Can you really fight the man when she's dancing with you? It's also important to remember that while promoters eventually declared Woodstock a free concert, it was initially designed as a commercial venture. The $18 tickets would today retail for $75-$105 – not dissimilar to a Broadway ticket price.
But Woodstock does have a few natural plot points. The production of the festival – recently chronicled in the Ang Lee film Taking Woodstock – was certainly full of drama, and during the course of the festival there were births, deaths, miscarriages, and many hearts united and broken. And yet, containing the festival within a theatrical scenario doesn't really seem like the right approach. Michael Lang might do better to worry less about "the human condition" and more about great music. He could create a concert-style musical of the order of the West End's Thriller Live, or Fela!, soon to open on Broadway.
Some amalgam of Richie Havens, Jimi Hendrix, the Grateful Dead, Sly and the Family Stone, Joe Cocker, Jefferson Airplane, the Who, Janis Joplin, and Creedence Clearwater Revival could make for a pretty super original cast recording. (I think we can probably leave the Incredible String Band out of this.) And who knows, Lang may have a hit on his hands – 40 years from now, people might joke that if you can remember Woodstock the Musical, you probably weren't there.